New for 2017-2018

All Youth

Note we have changed our Name to

NYMIA

New Youth Ministry In Action

If your not here your Missing In Action!

X-Factor

is still a base for our teaching.

eX-treme

F-aith

A-cceptance

C-ourage

T-eachings

O-bedience

R-eward






Meeting on Sunday's
5:00 - 6:30

Come for a night of fun learning about Jesus,
test you cooking abilities and great games with your friends.

Don't forget to Bring a Friend!




Please give Denise your number -- this year we will be keeping up with reminders and things going on by text... or if you can't make a meeting you can text me.


Please get me names and addresses on Kids you know who we could send a written invitation to NYMIA...


**************************************************


We are all learning to be chef's this year.... each sunday we make our own snacks and have a great time making and eatting them!



***************************************************




Nursing Home Visitation with music- Saturday Nov 4th 1:00 pm

Uniontown Healthcare and Rehabilitation Center-- by Shop-N-Save on Walnut Hill Rd

Hope you all can make it that afternoon.

We will be going shopping for Samaritan Box's following singing on Saturday Nov 4th. Come join in the joy of shopping!

We had a great time making fall crosses out of foam art to give out to the residences. Come and join blessing those who can't get out with music and fellowship!

I am hoping to arrange Puppet Ministry at the children's ward at the hospital. Puppeteers are needed. See Denise if you are interested

We would like to place a Prayer Mail Box out by the road in front of church for anyone who has a prayer need may place it in the box for prayer each week. We will be needing much helping installing this box!

Thanksgiving Dinner at church

Christmas Program -- participation is needed!
********************************************

Find out if you have the condition that means technology is taking over your life.



You might be asking, "What in the world is nomophobia?". I did too. But when I found out what it was, I realised I may have it. We know a 'phobia' is a fear of something which can cause anxiety and stress. Usually, the amount of stress or anxiety doesn't correspond to the level of danger that actually exists - and so it is ultimately irrational.

But Nomo & what is nomo? Nomo is an abbreviation for no mobile phone. The term was created after a study four years ago found that 53% of mobile phone users in Britain tended to be anxious when they lost their mobile phone, ran out of battery or no longer had network coverage. So nomophobia is the fear of being out of contact with your mobile phone! Stop now and think & what if you lost your phone? Did that just cause you panic?

How you know you've got nomophobia

Do you:

have an inability to turn off your phone?
take your phone to the bathroom (full disclosure I do)?
obsessively check emails, texts, facebook, twitter, etc.?
Technological advances are certainly great but with studies showing that we check our phones on average 34 times a day, maybe we have gone a bit too far. Just Google nomophobia and see all the news. A recent article in New York Daily News describes the issue, interviews a subject, and shows a nomophobia assessment. What is most shocking however is a statement made by one of the people who has this fear:

I feel like the virtual world is more real. Thats the world I want to engage in. I cant even imagine only checking my phone once an hour. I just feel like thats my whole universe.

Check your technology use

Have you become obsessive about checking your phone? Do you sometimes feel that the virtual universe is more real than the actual universe? If that sounds like you, here's a few suggestions:

Check yourself and limit your own time on the phone.
Question what is having the greater influence on your life: technology or Jesus?
If you are becoming isolated, withdrawn and depress, you may need to seek professional medical help.
It may seem silly, but we have to honestly ask these questions regularly and check the influence our technology has over our lives. One day, you may look back on your youth and wish you had spent more time with God, family and friends. You will never look back and wish you spent more time on your phone.





***********************************************

For nothing will be impossible with God. -Luke 1:37 Holman CSB

************************************************

Text Message abbreviations for Christians

GIIC - God is in control V4U - Verse for you

GLU - God loves you HC4U - He cares for you

PT! - Perhaps today! VOTD - Verse of the day

NMP - In my prayers STYSTRG - Stay strong

JLU - Jesus loves you NPJF - Not perfect, just forgiven

JNF - Jesus never fails KOKO - Keep on keeping on

P4U - Praying for you POTD - Promise of the day

P4M - Pray for me ROHP - Rest on his promises

PCT - Prayer changes things LAP - Love and prayers

CUAC - See you at church PTL! - Praise the Lord!

NLOE - In light of eternity <>< - Follower of Christ


***************************************************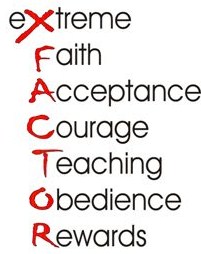 Bible Scavenger Hunt

Things you will need


Bibles (ideally NIV)
Cameras
Worksheet with questions
Pens
This activity consists of two tasks:

First, you have to use you Bible to look up answers to the 15 questions and write those down on the worksheet.
Once you know all the answers, it turns into a photo scavenger hunt you have to go and take photos of the 15 different items.
The first to turn in the completed hunt wins!
Bible Scavenger Hunt Questions

**************************

Teens Corner:

The Bible says in 2 Peter 1:3 that as we grow in our knowledge of God, through his divine power he gives us everything we need for life and godliness. Jesus relied on the Word of God alone to overcome obstacles, including the devil. God's Word is alive and powerful (Hebrews 4:12), useful for correcting us when we are wrong and teaching us what is right (2 Timothy 3:16). So, it makes sense for us to carry God's Word in our hearts through memorization, to be ready to face any problem, every difficulty, and whatsoever challenge that life can send our way.

Spend time in God's word DAILY!





*************************************




****************************

Bring a Friend on Sunday Nights
5:00 - 6:30 pm




*******************************

Our first week of study we talked about Jesus calling his disciples.

The first he called were Simon called Peter and his brother Andrew, then James son of Zebedee and his brother John. These men were fishermen. Then were called Phillip and Bartholomew (Nathaniel), Thomas, Matthew the tax collector, Judas Iscariot, Simon of the Zealot, James of son of Alphaeus and Thaddaeus, and Matthias replaced Judas Iscariot, then Saul of Tarus became the Apostle Paul

******************************
Our Second Week we talked about becoming fisher's of men.
We made delicious chocolate chip pie to share with Pastor Arturo.
Our scripture memory verse for the week was:
and Jesus said to them; "come and follow me and I will make you fishers of men. Matthew 4:19
*******************************



Our Third week we talked about who God is and how much He loves us. We used foil impression of our faces to show that no two of us are alike. God makes us just as we are and He knew us before we were born. He has great love for each of us and even knows the number of hairs on our heads.



Our scripture memory verse comes from John 3:16:
For God so loved the world that He gave His one and only Son that who ever beleaves in Him shall not perish but have eternal life.



This week are snack was a delcious donut sunday's complete with chocolate syrup. We also made foam art crosses for the nursing home residence.


**************************************************

We'd love to have you visit us Sunday Evenings

Bring a friend along!

***************************************************

Youth Leader Contacts

Contact:

DENISE MARKER - CELL 724-322-8522


TRACY GLIDDEN - CELL 724-322-7035





~ ~ ~ ~ ~ ~ ~ ~ ~ ~ ~ ~ ~ ~ ~ ~ ~ ~




You can contact any of us at


724-785-8810 Church number--

if no answer leave a message and we will return your call ASAP


~ ~ ~ ~ ~ ~ ~ ~ ~ ~ ~ ~ ~ ~ ~ ~ ~ ~ ~ ~ ~

ALL CAN CONTACT:

Pastor Mike -

***************************************************