Go to FACEBOOK: Allison Christain Church New Youth Ministry In Action
Saturday April 11th at 7:00 pm for live streaming!

Easter Story Cookies RECIPE
The process of baking these cookies will deepen every family member's understanding of the Resurrection. Easter Story Cookies may very well become a family tradition first for your child and perhaps his or her children someday.
On the Saturday before Easter collect the following:
1 Cup whole pecans
3 Egg whites
1 Cup sugar
1 Teaspoon vinegar
Pinch of Salt
Resealable plastic storage bag
Mixing bowl
Wax paper

Masking Tape

Wooden spoon
Hand mixer
Cookie sheet
Family Bible

Preheat oven to 300 degrees
Place the pecans in a resealable plastic storage bag and let
your child beat them with the spoon to crush them into
small pieces. Explain that after Jesus was arrested the
Roman soldiers beat Him. READ: John 19:1-3
Help your child smell the vinegar. Put 1 Teaspoon into the
mixing bowl. Explain that Jesus was given vinegar to drink
while on the cross. Read John 19:28-30
Add the egg whites to vinegar. Explain that eggs give
life. Explain that Jesus gave His life to give us eternal life.
Read: John 10:10-11
Sprinkle a little salt into your child's hand and let them taste
it. Pour the remaining salt into the mixing bowl. Explain that
this represents the salty tears Jesus' followers shed.
Read: Luke 23:27
Explain that the ingredients so far have not been very tasty.
Add 1Cup sugar to the mixture. Explain the sweetest part of
the whole story is that Jesus died because He loves us. He
wants you and your children to know and belong to Him.
Read: Psalm 34:8 and John 3:16
Beat the mixture on high speed for 12-15 minutes untill
stiff peaks are formed. Explain that the color white represents
the purity in God's eyes of those whose sins have been
forgiven by Jesus. Read: Isaiah 1:18 and John 3:1-3
Fold in the crushed, broken nuts. Drop the cookie dough
by teaspoons onto a cookie sheet covered with wax paper.
Explain that each mound represents the tomb where Jesus' body was placed. Read: Matthew 27:57-60
Carefully put the cookie sheet in the oven, close the door, and
turn the oven OFF. Give the children masking tape and
help them seal the oven door. Be careful - the edges of the
oven may still be extremely hot!! Explain that Jesus' tomb
was sealed. Read: Matthew 27:65-66
Go to bed. Explain that Jesus' followers were in despair when
the tomb was sealed. Read: John 16:20 and 22
On Easter morning, before the children awaken, remove the
tape form the oven door. Allow the children to open the oven
and to give everyone a cookie. Point out the cracked surface
and take a bite. The cookies are hollow! Explain that on the
first Easter Jesus' followers were amazed to find the tomb
open and empty!
Read: Matthew 28:1-9
Hope you all enjoy your time with your families making
these cookies. Although we could not physically be together
to do this project --we are still together making them at the
same time. I encourage you to invite a friend to join in too.

*******************************************************************

Come Help

Finish the Biblical TOTEM POLE!
WE ADD SOMETHING NEW TO IT EACH WEEK!
Don't forget the five Major Prophets!
"I Just Love Every Day"
Isaiah, Jeremiah, Lamentations, Ezekiel & Daniel

See you when the Quarantine is OVER!

*************************************

Youth Leader Contacts
DENISE MARKER - CELL 724-322-8522

TRACY GLIDDEN - CELL 724-322-7035

~ ~ ~ ~ ~ ~ ~ ~ ~ ~ ~ ~ ~ ~ ~ ~ ~ ~
You can contact any of us at

724-785-8810 Church number--
if no answer leave a message and
we will return your call ASAP

~ ~ ~ ~ ~ ~ ~ ~ ~ ~ ~ ~ ~ ~ ~ ~ ~ ~ ~ ~ ~
ALL CAN CONTACT:
Pastor Mike -
************************************

New for 2020
All Youth
Note we have changed our Name to
NYMIA
New Youth Ministry In Action
If your not here your Missing In Action!
X-Factor
is still a base for our teaching.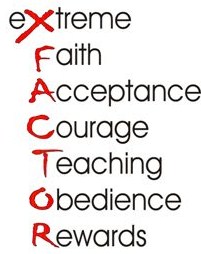 Meeting on Sunday's




1 - 2:30



Come for a night of fun learning about Jesus,
test you cooking abilities and great games with your friends.

Don't forget to Bring a Friend!




Please give Denise your number -- this year we will be keeping up with reminders and things going on by text... or if you can't make a meeting you can text me.


Please get me names and addresses on Kids you know who we could send a written invitation to NYMIA...


**************************************************


We are all learning to be Chef's again this year.... each sunday we make our own snacks and have a great time making and eatting them!



*******

********************************************

For nothing will be impossible with God.


Luke 1:37 Holman CSB

************************************************

What not a better way to get to know God than by reading your Bible Daily and talking to Him - praying. Just like you would talk to your mom or dad or best friend.